another uk  loss today billy G may be getting close to the hot seat in my view 4th place in the sec east in one of the worst confrences if tenn wins tonight. it's not all his  fault the team has little mental toughness and guts and this shows in the lack of rebounds.  that takes care of the blue blues.
1. now on to the white blues are monday tuesday looks as patheitic as the shooting in the first 10 mins of today's game. what looked to be a monster storm looks sheared out with max snow amounts only from 3-6 inches in new england. sunday will see highs soar into the 50's in the south and east where there's no ice cover. eslewhere highs will be in the mid to maybe upper 40's as waa continues bringing up southerly flow this may also serve to knock down some more braches tonight as winds will be in the 10-15 mph range. watch out for falling ice as well.
2. a front will pass through sunday night and early monday this was supposed to aid with the southern branch to form our storm instead any storm will not form till the boundry is well east of us as a result only a period of light snow will be found behind the front with minor slick spots and lows sunday night near 30. accums will be under an inch  
3. flow turns NW monday as highs stay in the low 30's with some flurries.
4. i still think a clipper dives into the region rasing our snow chances on tuesday with highs in the 20's. wednesday will be cold as well with 20's and nw flow.
tue clipper path 60% chance of more than .25 snow
5. most of modeling has a thaw coming by next weekend that lasts till the middle of the month
but then…..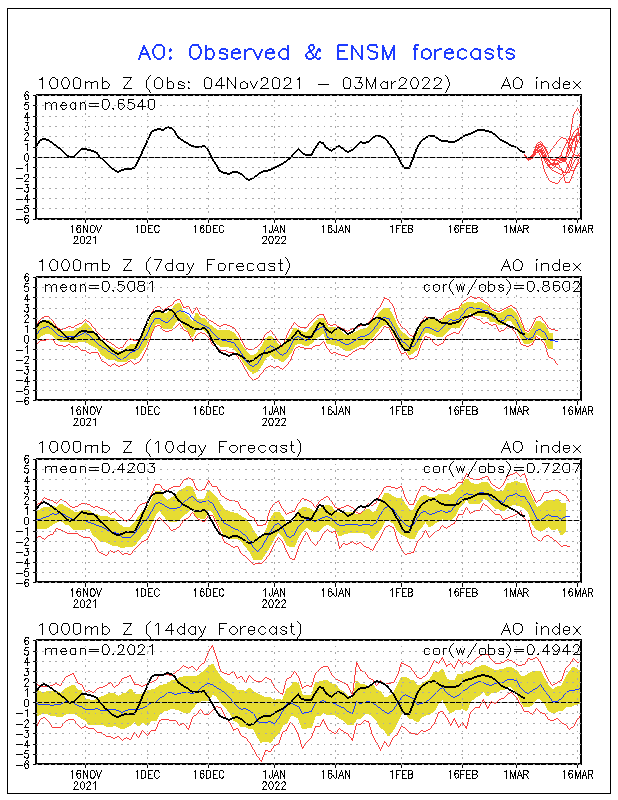 notice a peek into the postive area for when are expected thaw is and what follows it. of course this is not a direct corelation between the two but a negative ao is a cold singnal for the longer range this fits is nicely with the pna, nao values as well switching back to cold signals after a week 2 thaw in feb not to mention the euro weeklies are on board as well. so winter's not over. but we all should welcome a thaw which couples nicely with my first round of exams.  i may cut back on posting that week we'll see.