this is a turning point in the forecast for derby day, i had the new front orginally moving through just to our south keeping us with a small rain chance now things have changed. why?
the ridge has held on a little stronger than expected, this was easy to see tuesday as thunderstorm activity quickly died out as it moves in showing the ridge was holding on more than what the models had.  As a result of the ridge flexing it's mussels the front will set up through the weekend a little further north right over kentucky.
yesturday those of you along and south of the first "impulse/upper air disturbance" along our old front saw periods of slow moving showers and storms yesturday and it took gulf mositure away from those in the north to produce storms. this lead to some rain amounts over an inch.
1. the leftovers of a old warm front which will be asorbed by the new cold front. another cluster of showers ans storms will exit this afternoon leaving just scattered storms and muggy condtions in it's wake highs will be in the 70's.
2. later on tonight another upper level impluse along the boundry will be focus for more rain and storms some of which will be hvy at times with the threat for training and slow moving storms which we have seen already this week. both the nam and gfs have impresive totals for tonight and friday morning(100%). once again activity should become more scattered as the day goes on(30%) with chances a little higher by early evening friday night for the Oaks(40%) with a little more instabilty. with the storm action there a slight risk of damaging winds and hail with the storms. the main threat by far will be hvy rain.
nam fri am
gfs fri am
spc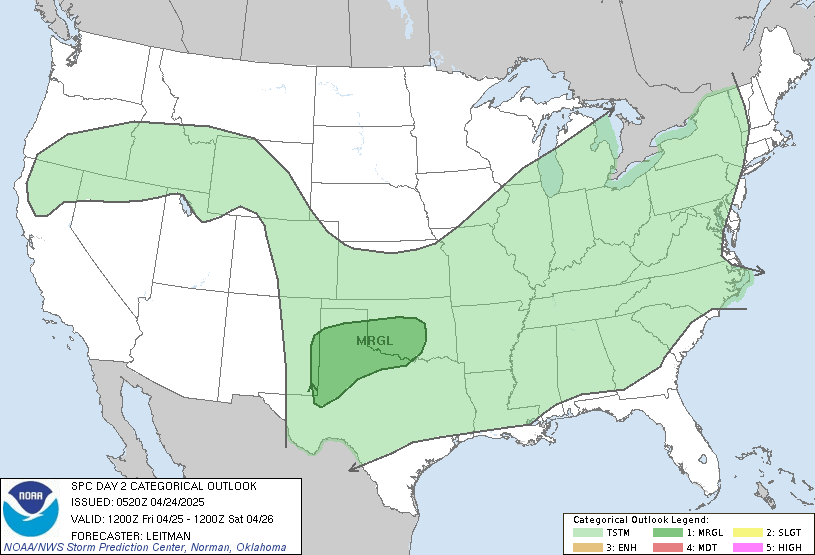 this front is slow moving with a week jet i don't think the severe threat is that high but isolated clusters that produce gusty winds are possibile.
3. on to derby day there is disagreement the gfs brings another impulse through in the morning making it similar to friday however with some daytime heating the nam widespread activity later in the day for the derby. for now showers and storms look likely to say the least with similar hvy rain and gusty wind threats as friday. highs will be in the 70's through the weekend.
4. this front stays put for sunday with more periods of thunderstorms w/ a hvy rain threat and maybe a cluster or two which can produce gusty winds. there will likely be a final push of the front monday and tuesday with even more periods of showers and storms. the rainfall through tuesday really adds up on the models and the flood threat will increase by early next week.
nam rainfall 12z thu-12z fri
nam rainfall 12z fri- mon 00z
a good 4-6 inches of rain by sunday night if right.
gfs thu 12z- sun 00z
gfs sun 00z- tue 00z
a good 3-5 inches on this gfs run for the whole event.
– expect periods of rain and storms with high water concerns increasing through the weekend, gusty winds are possibile with a few storms.  
– chance for a wet oaks(40%) and wet derby(60%)