This is my last regular post. I'm moving to NJ this weekend and start work Wednesday. I have enjoyed providing Kentucky with weather reports for the past several years. My life is taking me in another direction now and I'm really looking forward to my career in the NWS. Although when the weather picks up in KY I may drop a few lines from time to time. Also the links to other weather information will remain.
Where does the weather pattern go?
– Increase in showers and storms dents the drought and keeps temps near normal through the remainder of the summer.
– Drier and very warm for the fall. Another heat wave or two still likely.
– mild start to winter but many of you will like what I'm expecting for the second half of winter 2012-13.
What I feel confident in
– Transition to a moderate central basin el-nino for winter 2012-13. This provides some analogs for the fall and winter.
– Cold PDO has allowed the mean ridge to be further east this summer thus the heat. Cold PDO promotes a trough in the northwest. This would promote warm conditions across most of the US till it warms toward neutral.
Models
– I've seen some the ECMWF seasonal model though have limited access. However let's look at the CFS.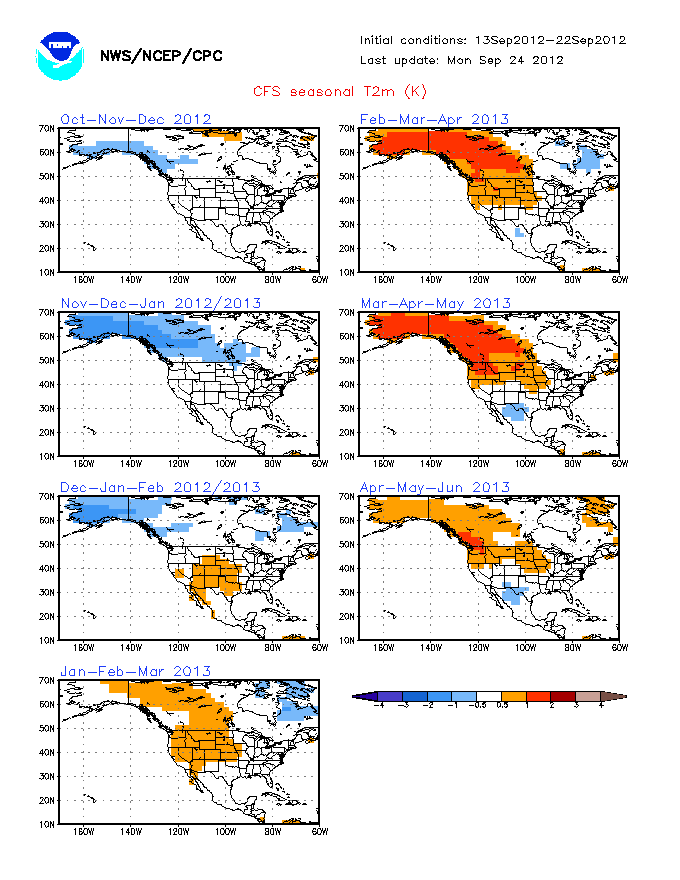 Version 1 above, Version 2 below
http://www.cpc.ncep.noaa.gov/products/CFSv2/htmls/usT2me3Sea.html
Version 2 shows a large region of above normal temperatures over the plains through the fall then over the northern plains for the winter. Precipitation patterns follow a typical el-nino. I think version 2 is to strong with the el-nino. Version 1 looks to cool for a lot of the forecast.
ENSO analogs several of them not weighted as much due to the PDO. If the PDO were warm I would be on board with my initial thinking for a blockbuster winter. I don't think everything will come in line. Though the second half should make up for last winter with near to above snow overall for winter 2012-13.
Here is a list of moderate el-ninos following a la-nina or double la-nina
51-52, 76-77, 86-87, 02-03, 06-07, 09-10.
The 1976-77 bold should catch your eye that winter featured brutal cold and record snows.
However what was the PDO like in those years?
51-52 and 06-07 had cold PDO's. The others all had warm PDO's. 51-52 had the look of a la-nina winter warm and wet with the cold in the west. 06-07 started warm then turned cold. the other three with warm PDO's were all cold and snowy for our region.
Also what about the AO and stratospheric warming? – Those were two factors which were hostle to any sustained cold and snow last winter. These are players which will be better known as winter gets closer.
month by month breakdown
August 1 degree above normal, stormy with above rainfall, some denting to the drought
September 3 degrees above normal, drier
October 3 degrees above normal, continued dry
November 3 degrees above normal, continued dry
December 2 degrees above  normal, quiet, little snow
January 2013- 2 degrees below normal , snowfall back to average,
February 2013- 3 degrees below normal, above normal snow
Winter starts quiet and warm Then flip in the first half of Jan to a much colder, stormier and snowier pattern. Snowstorm threats likely for the second half of the winter.
Snow totals 2012-13 winter
Lexington-18 in ( 2 in above normal)
Bowling Green 12 in ( 2 in above normal)