My thoughts on the storms are not that different from SPC so i'll let you read there outlook which features a slight risk for our region Friday night.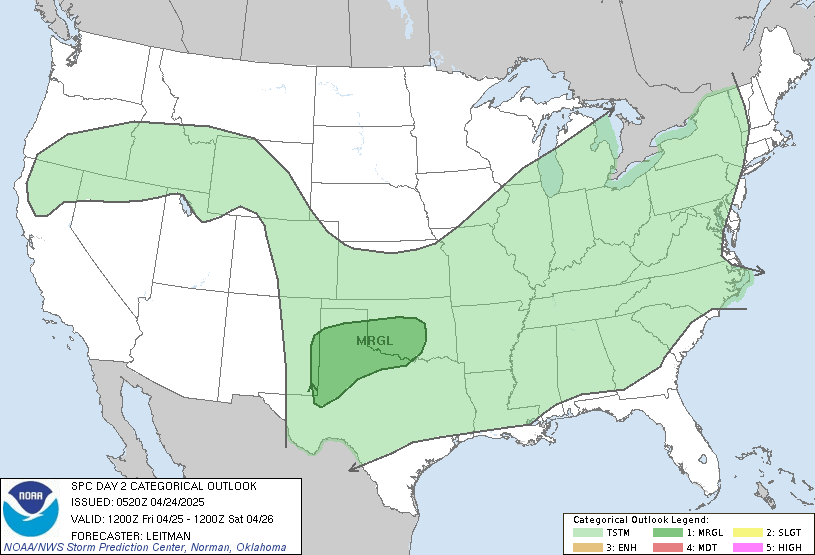 text
THERE IS A SLGT RISK OF SVR TSTMS FROM THE SOUTHERN PLAINS/OZARKS
   TO THE MIDDLE MS/OH RIVER VALLEYS…
  
   …SYNOPSIS…
   A SLIGHT AMPLIFICATION OF THE LARGE SCALE PATTERN WILL CONTINUE TO
   OCCUR INTO FRIDAY…AS AT LEAST MODEST HEIGHT FALLS OVERSPREAD MUCH
   OF THE CENTRAL STATES ON FRIDAY AS A SHORTWAVE TROUGH/ATTENDANT
   POLAR JET SPREAD NORTHEASTWARD OVER THE UPPER MIDWEST TOWARD THE
   UPPER MS VALLEY/UPPER GREAT LAKES REGION. A CORRESPONDING SURFACE
   LOW SEEMS LIKELY TO ADVANCE/EVENTUALLY DEEPEN NORTHEASTWARD FROM THE
   SOUTH-CENTRAL PLAINS EARLY FRIDAY TO THE UPPER MS RIVER VALLEY/UPPER
   GREAT LAKES VICINITY FRIDAY NIGHT…WHILE A SECONDARY SURFACE LOW
   WILL BE ANCHORED ON THE WEST EDGE OF THE MOIST SECTOR ACROSS
   NORTHWEST TX/FAR SOUTHWEST OK.
  
   …SOUTHERN PLAINS/OZARKS TO THE MIDDLE MS/LOWER OH VALLEYS…
   INITIALLY…AT THE TERMINUS OF A STRONG/SPLIT AND GRADUALLY VEERING
   LOW LEVEL JET…ELEVATED TSTMS CAPABLE OF SEVERE HAIL ARE LIKELY TO
   BE ONGOING FRIDAY MORNING WITHIN A CORRIDOR ACROSS THE LOWER MO
   VALLEY/MIDDLE MS VALLEY TOWARD THE LOWER OH VALLEY. AN ISOLATED
   SEVERE HAIL THREAT MAY CONTINUE THROUGH THE MORNING AS STORMS SPREAD
   EASTWARD ON THE EDGE OF THE EASTWARD ADVANCING LOWER MO VALLEY
   ELEVATED MIXED LAYER.
  
   THIS EARLY DAY CONVECTION CREATES A DEGREE OF UNCERTAINTY REGARDING
   THE SPATIAL EXTENT OF THE SUBSEQUENT AFTERNOON/EVENING WARM/MOIST
   SECTOR FOR AREAS SUCH AS NORTHEAST MO INTO CENTRAL/SOUTHERN PORTIONS
   OF IL/INDIANA…AS THIS EARLY DAY ACTIVITY COULD EFFECTIVELY IMPEDE
   THE DEGREE OF MOISTENING/SURFACE BASED DESTABILIZATION WITH
   NORTHWARD EXTENT. REGARDLESS…AN INCREASINGLY MOIST
   AIRMASS…CHARACTERIZED BY LOWER TO MIDDLE 60S F SURFACE DEWPOINTS
   WILL OTHERWISE QUICKLY RETURN NORTH-NORTHEASTWARD ACROSS THE MIDDLE
   MS/LOWER OH VALLEYS AHEAD OF THE NORTHEASTWARD ADVANCING MIDWEST
   SURFACE LOW AND NORTHEAST-SOUTHWEST ORIENTED COLD FRONT.
  
   THE PRE-COLD FRONTAL AIRMASS WILL LIKELY BECOME MODERATELY TO
   STRONGLY UNSTABLE DURING THE AFTERNOON…WITH 1000-2500 J/KG MLCAPE
   PROBABLE ACROSS PORTIONS OF MO/DOWNSTATE IL…AND STRONGER 3000+
   J/KG MLCAPE ACROSS OK/FAR NORTH TX. CURRENT THINKING IS THAT SURFACE
   BASED TSTMS WILL DEVELOP BY LATE AFTERNOON/EARLY
   EVENING…ESPECIALLY ACROSS THE EASTERN/SOUTHERN HALVES OF MO INTO
   WESTERN IL ALONG/AHEAD OF THE COLD FRONT…AS WELL AS SOUTHWESTWARD
   INTO FAR SOUTHEAST KS/FAR NORTHWEST AR…AND OK NEAR/NORTHEAST OF AN
   EXPECTED SURFACE LOW AND FRONTAL BOUNDARY/DRYLINE TRIPLE POINT.
  
   GIVEN STRONG CYCLONIC MID-UPPER FLOW ALOFT /45-60 KT AROUND 500 MB/
   COLOCATED WITH THE FRONTAL ZONE/ADJACENT MOIST SECTOR…INITIAL
   MODAL SUPERCELLS ARE PROBABLE…WITH LARGE HAIL AND TORNADOES
   POSSIBLE. CURRENT THINKING IS THE RELATIVELY GREATEST TORNADO THREAT
   MAY EXIST ACROSS EAST/SOUTHEAST MO INTO DOWNSTATE IL FRIDAY LATE
   AFTERNOON/EARLY EVENING…AHEAD OF THE ADVANCING SURFACE LOW AND
   ALONG/JUST SOUTH OF WHAT MAY BE A CONVECTIVELY REINFORCED WEST-EAST
   EFFECTIVE FRONTAL ZONE…ALTHOUGH A TORNADO THREAT WILL EXIST
   SOUTHWESTWARD INTO OK AS WELL.
  
   BY FRIDAY EVENING…A MORE LINEAR CONVECTIVE MODE IS LIKELY TO
   EVOLVE ESPECIALLY ACROSS THE OH VALLEY…WITH UPSCALE GROWING
   QUASI-LINEAR CLUSTERS/BOWING SEGMENTS POSING A DAMAGING
   WIND/ISOLATED TORNADO RISK FRIDAY NIGHT. FARTHER SOUTHWEST ACROSS
   THE REMAINDER OF THE NORTHEAST-SOUTHWEST FRONTAL ZONE…OTHER TSTMS
   WILL CONTINUE TO POSE AT LEAST AN ISOLATED SEVERE HAIL THREAT FRIDAY
   NIGHT ACROSS SOUTHERN MO/NORTHERN AR INTO OK AMID A WARM
   ADVECTION/ISENTROPIC LIFT REGIME ALONG/NORTH OF THE SURFACE FRONT.
my thoughts are in the last post.