spc
AN UPPER-LEVEL TROUGH OVER THE LOWER GREAT LAKES WILL MOVE EWD
   ACROSS THE NERN STATES SUNDAY. AT THE SFC…A SHARPLY DEFINED COLD
   FRONT IS FORECAST TO MOVE SWD ACROSS THE OH VALLEY AND CNTRL
   APPALACHIAN MTNS. A VERY MOIST AIRMASS WILL EXIST SOUTH OF THE
   BOUNDARY WITH SFC DEWPOINTS IN THE UPPER 60S AND LOWER 70S F. THIS
   SHOULD ALLOW MODERATE INSTABILITY TO DEVELOP BY MIDDAY SUNDAY WITH
   SCATTERED TO NUMEROUS THUNDERSTORMS INITIATING ALONG AND SOUTH OF
   THE BOUNDARY. THIS ACTIVITY SHOULD MOVE ESEWD ACROSS REGION AND
   SEVERAL LINE-SEGMENTS OR THUNDERSTORM CLUSTERS MAY PERSIST INTO THE
   EVENING.
  
   CONCERNING THE ENVIRONMENT…A BROAD 50 TO 60 KT MID-LEVEL JET
   SHOULD BE LOCATED IN THE BASE OF THE NERN U.S. UPPER-LEVEL TROUGH.
   THE RIGHT ENTRANCE REGION OF THE JET WILL HELP ENHANCE LIFT AND
   CREATE MODERATE DEEP LAYER SHEAR ACROSS THE UPPER OH VALLEY AND
   MID-ATLANTIC. FORECAST SOUNDINGS SUNDAY AFTERNOON IN ERN KY…WV AND
   NRN VA SHOW 0-6 KM SHEAR VALUES IN THE 35 TO 45 KT RANGE SUGGESTING
   STORM ORGANIZATION SHOULD OCCUR AND A SEVERE THREAT WILL BE POSSIBLE
   ACROSS THE REGION ESPECIALLY NEAR PEAK HEATING. FORECAST SOUNDINGS
   LATE SUNDAY AFTERNOON ALSO SHOW STEEP LOW-LEVEL LAPSE RATES AND
   UNIDIRECTIONAL WIND PROFILES WITH 20 TO 30 KT OF FLOW AT 850 MB
   SUGGESTING THE MORE PERSISTENT LINE-SEGMENTS WILL HAVE A POTENTIAL
   FOR DAMAGING WIND GUSTS. THE SHEAR ENVIRONMENT MAY ALSO SUPPORT
   ISOLATED SUPERCELL DEVELOPMENT WITH A LARGE HAIL THREAT POSSIBLE IN
   AREAS WHERE INSTABILITY BECOMES MAXIMIZED.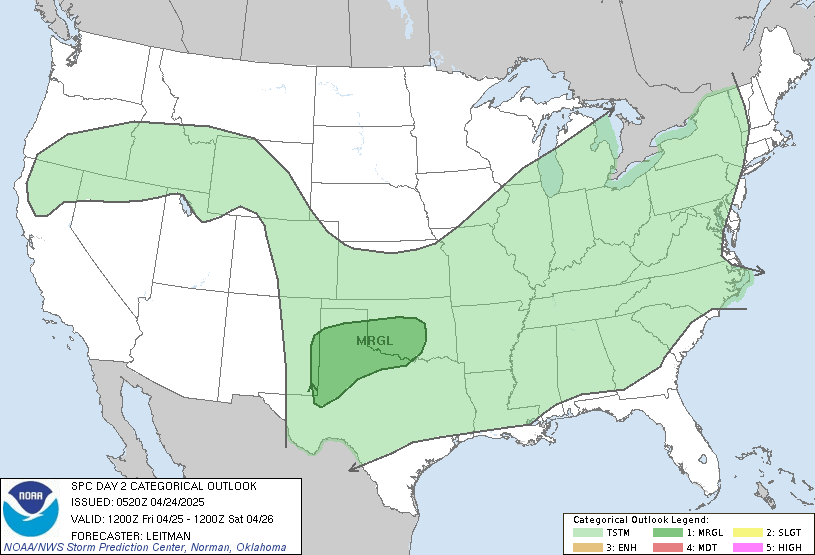 looking at some of modeling today I have to agree as the amount of energy available in the atmosphere should be sufficient for the developement of some strong to severe across the region. However I think there more indicating of a more isolated threat than suggested in the spc discussion. Gusty winds are the main threat tomorrow.  I'll update again tomorrow morning on this. For more on the previous week which was very active in terms of severe weather scroll down to the previous post.