1. we have a slight risk for severe storms each day through Thursday. the main severe threats will be gusty winds and some small hail. also complexs called derechos may evolve with this stalled out front to make the wind threat more widespread. the formation of storms will be helped by an unstable airmass and outflow boundaries in the region.
days 1-3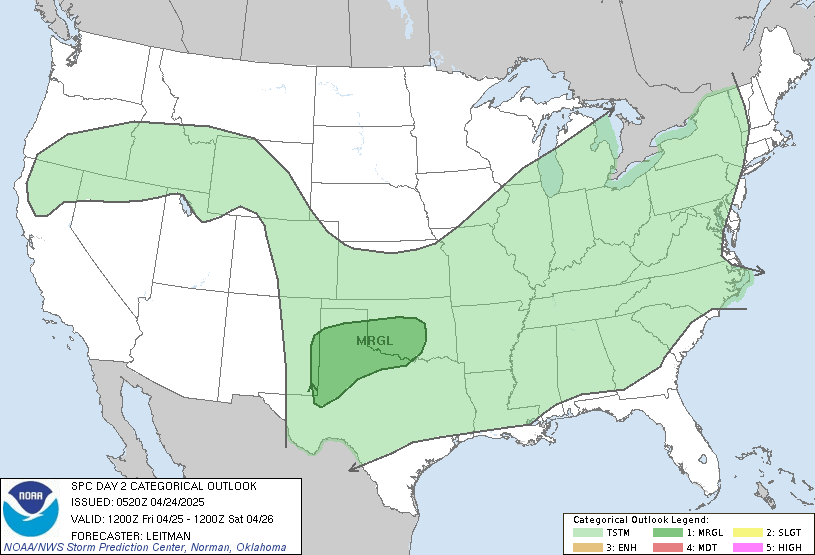 spc days 1-3
COMPLICATED FORECAST TODAY WITH SEVERAL SMALL SCALE SPEED MAXIMA
   PROGRESSING EWD FROM THE OH VALLEY TO THE APPALACHIANS…S OF THE
   MAIN BELT OF WLYS AND THE PRIMARY SHORTWAVE TROUGH NEAR AND N OF THE
   SAINT LAWRENCE VALLEY.  AT THE SURFACE…A COLD FRONT IS MOVING
   SLOWLY EWD INTO WRN NY/PA AND SEWD TOWARD THE OH RIVER…WHILE A
   WARM FRONT IS LIFTING SLOWLY NEWD ACROSS ERN PA AND SRN/SERN NY.
   REGIONAL 12Z SOUNDINGS REVEAL RELATIVELY STEEP MID LEVEL LAPSE RATES
   AND POTENTIALLY MODERATE INSTABILITY /MLCAPE VALUES OF 1500-2500
   J/KG/ ONCE AFTERNOON TEMPERATURES WARM INTO THE UPPER 70S ACROSS NY
   …THE LOW-MID 80S TOWARD THE OH VALLEY…AND THE UPPER 80S IN THE
   LEE OF THE CENTRAL/SRN APPALACHIANS.  THERE WILL BE THE POTENTIAL
   FOR SCATTERED THUNDERSTORM DEVELOPMENT THIS AFTERNOON ALONG THE
   SURFACE FRONT AND IN ADVANCE OF THE SUBTLE MID LEVEL SPEED MAXIMA
   FROM THE OH VALLEY NEWD INTO PA/NY.  THE STRONGER LOW-MID LEVEL FLOW
   AND VERTICAL SHEAR WILL RESIDE OVER PA AND ESPECIALLY NY…WHERE
   ORGANIZED CLUSTERS/LINE SEGMENTS COULD PRODUCE DAMAGING WINDS AND
   LARGE HAIL.  FARTHER S AND SW TOWARD THE OH VALLEY AND
   APPALACHIANS…DIURNAL PULSE-TYPE CONVECTION WILL BE CAPABLE OF
   PRODUCING DAMAGING DOWNBURST WINDS AND LARGE HAIL IN THE RELATIVELY
   WEAK VERTICAL SHEAR ENVIRONMENT.
…MIDWEST/MID-UPR OH VLY TO THE CNTRL APLCNS…
   A CLUSTER OF TSTMS…PSBLY PRODUCING HAIL/GUSTY WINDS…WILL BE
   ONGOING AT THE START OF THE PD OVER PORTIONS OF THE MID-MS
   VLY/MIDWEST.  CONVECTIVELY ENHANCED MID-LVL SPEED MAX ASSOCD WITH
   THIS ACTIVITY IS THEN EXPECTED TO TRANSLATE TOWARD THE MID-ATLC
   REGION BY WEDNESDAY NIGHT.  CDFNT THAT SETTLES INTO THE OH VLY/CNTRL
   APLCNS TODAY/TONIGHT WILL RETURN NWD INTO CNTRL OH/PA…WITH RAPID
   RECOVERY OF LLVL MOISTURE LIKELY AHEAD OF REMNANT NOCTURNAL
   CONVECTION.  EXPECT THAT SFC-BASED STORMS WILL DEVELOP WEDNESDAY
   AFTN OVER THE MIDWEST ALONG SRN FRINGE OF EARLY DAY ACTIVITY…AND
   THEN MOVE EWD ACROSS THE CNTRL APLCNS DURING THE NIGHT.  40-50 KTS
   OF WLY FLOW WILL BE FAVORABLE FOR SOME ORGANIZED
   STORMS…PARTICULARLY WEST OF THE MOUNTAINS WHERE STRONGER LLVL
   THETA-E AXIS WILL EXIST. DMGG WIND GUSTS AND PERHAPS A TORNADO OR
   TWO WILL BE THE PRIMARY SVR RISKS.
  
   …LWR OH VLY/OZARK PLATEAU SWWD INTO THE SRN PLNS…
   MID-LVL SHORTWAVE RIDGING WILL BE SHORT-LIVED IN WAKE OF THE
   DEPARTING UPR OH VLY DISTURBANCE.  A COMPARATIVELY STRONGER IMPULSE
   AND ASSOCD ASCENT ARE LIKELY TO ARRIVE OVER THE SRN PLNS BY
   WEDNESDAY MID-AFTN AND SPREAD QUICKLY NEWD TOWARD THE OZARK
   PLATEAU/LWR OH VLY DURING THE EVENING.  AIR MASS ALONG/S OF THE
   RETREATING FRONT WILL BECOME VERY UNSTABLE OWING TO MID-UPR 60S SFC
   DEW POINTS AND STEEP LAPSE RATES.  HEATING ALONE WILL PROBABLY NOT
   BE SUFFICIENT FOR IGNITING STORMS GIVEN THE REBOUNDING CAP.
   BUT…ADDED MOISTENING VIA LARGER SCALE ASCENT AND PERSISTENT MOIST
   INFLOW/FRONTAL CONVERGENCE SHOULD AID IN GENERATING SFC-BASED STORMS
   FROM SRN IL WWD ACROSS CNTRL/SRN MO AND ERN KS BY MID-AFTN.
   ADDITIONAL STORMS WILL FORM SWWD ACROSS PORTIONS OF OK AND W TX NEAR
   THE DRYLINE BY LATE AFTN…AND ESPECIALLY DURING THE EVENING/NIGHT
CONVECTION WILL BE RATHER WIDESPREAD AT 12Z THUR ACROSS THE OH VLY
   AND MID-SOUTH ALONG/N OF A WSW LLJ AXIS.  ACTIVITY ACROSS THE UPR OH
   VLY WILL HAVE THE HIGHER PROBABILITY OF BEING MAINTAINED DOWNSTREAM
   INTO THE MID-ATLANTIC REGION IN ASSOCIATION WITH THE LEAD UPR WAVE.
   WHILE CLOUD DEBRIS/PCPN WILL LIKELY ALTER DESTABILIZATION EAST OF
   THE CNTRL APLCNS…ISOLD TSTMS THAT DEVELOP ALONG SRN FRINGES OF
   ELEVATED PCPN MAY YIELD DMGG WIND GUSTS.  REGION WILL BE LOCATED
   ALONG SRN EDGE OF 40-45 KT WLY H5 FLOW AND LATER OTLKS WILL NEED TO
   ADDRESS POTENTIAL FOR SLGT RISK EXPANSION EWD INTO THE MID-ATLANTIC
   REGION.
  
   PRIMARY SVR THREATS SHOULD UNFOLD UPSTREAM FROM THE TN VLY WWD INTO
   THE SRN PLNS.  HEATING…PERSISTENT WSW LLVL FLOW AND AT LEAST WEAK
   CYCLONIC FLOW ALOFT WITH SPEEDS AOA 40 KTS AT H5 WILL BE FAVORABLE
   FOR TSTMS TO FORM INVOF OUTFLOW BOUNDARIES/CDFNT FROM KY/TN INTO THE
   MID-SOUTH BY MID-AFTN.  ORGANIZED STORMS MAY PRODUCE BOTH LARGE HAIL
   AND DMGG WINDS.
  
   SLIGHTLY STRONGER CAP IS EXPECTED TO DELAY CONVECTIVE INITIATION
   FARTHER W ALONG THE DRYLINE/FRONT INTERSECTION ALONG THE ECNTRL TX
   PNHDL/OK BORDER SWD INTO W TX UNTIL LATE AFTN.  COMPARATIVELY
   STRONGER HEATING ALONG THE HIGHER PLNS…PRESENCE OF WEAK SELY LLVL
   UPSLOPE FLOW AND FRONTAL CONVERGENCE WILL PROBABLY LEAD TO LOCAL CAP
   REMOVAL AND TSTM DEVELOPMENT.  ROUGHLY 40 KTS OF DEEP LAYER SHEAR
   AND MAGNITUDE OF POTENTIAL INSTABILITY WILL LEAD TO SUPERCELLS WITH
   LARGE HAIL AND PERHAPS A TORNADO OR TWO.  ACTIVITY WILL PROBABLY
   CONGEAL INTO A NOCTURNAL MCS AND MOVE ESEWD ACROSS PARTS OF OK/N TX.
i expect several periods of thunderstorms through the mid week with several strong to severe storms each day, i'll be on the lookout for watches and warnings. the overall mode of the convection will be large complexs which weaken during the night and there outflow boundaries refire during the day producing more storms.
radar
2. these storms will produce more hvy rains and areas that see more frequent storms could see more high water problems both the gfs and nam have another couple of inches of rain over the next few days.