unlike the past several severe events we will be live this time with frequent updates.
morning showers have pushed through and the  sun is starting to peak out leading to instabilty and  severe storm delevopment to our sw this afternoon in the warm sector. the delevopment will start out as supercells with hail, wind and tornadoes but form a squall line later today as the action moves into our area.
latest from the spc
sill a slight risk ahead of the main cold front for most of us  morning activity in the se  us caused a slight risk there.
tornado chances within 25 miles of you
hail above wind below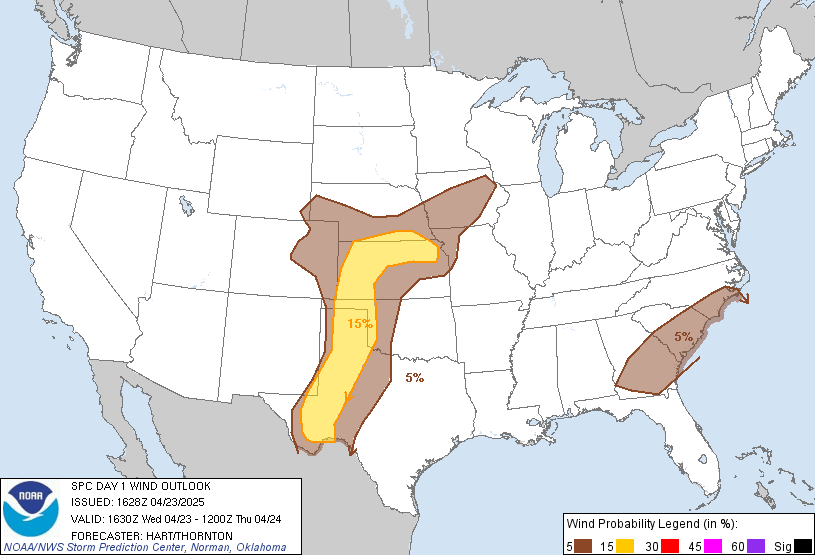 the spc has been playing this one on the conserative side however i think the severe threat will be more widespread as instabiltywill occur this afternoon.
they have issued a MD as well for west ky and tenn where storms will delevop by 4 pm.
SCATTERED TSTMS SHOULD DEVELOP BY 20-21Z ALONG A COLD FRONT
   PROGRESSING EWD ACROSS THE LOWER OH AND TN RIVER VALLEYS. VERY
   STRONG DEEP-LAYER SHEAR AMIDST MODEST SURFACE-BASED INSTABILITY WILL
   RESULT IN SUPERCELLS PRODUCING TORNADOES…LARGE HAIL…AND DAMAGING
   WINDS. A TORNADO WATCH WILL LIKELY BE ISSUED PRIOR TO 19-20Z.
  
   17Z SURFACE ANALYSIS PLACED A 993 MB LOW NEAR SGF WITH AN ARCING
   COLD FRONT FROM CGI TO TUP. BREAKS IN LOW-LEVEL STRATOCUMULUS AND
   PRESENCE OF MID-LEVEL DRY SLOT HAS ALLOWED SURFACE TEMPERATURES TO
   WARM TO AROUND 70 F ALONG AND AHEAD OF THE BOUNDARY…WHILE DEW
   POINTS HAVE RISEN TO AROUND 60 F GIVEN DOWNWARD MIXING/ADVECTION.
   WITH CONTINUED INSOLATION…MODIFIED RUC FORECAST SOUNDINGS SUGGEST
   MLCAPES OF 600 TO 1200 J/KG WILL BE COMMON.
  
   AS THE CYCLONE OVER THE OZARKS PIVOTS NEWD…LARGE-SCALE FORCED
   ASCENT WILL INCREASE AS AN INTENSE /90 KTS AT 500 MB/ S-SWLY
   MID-LEVEL JET OVERSPREADS THE REGION. TSTM INITIATION SHOULD OCCUR
   BY 21Z…WHICH IS SUPPORTED BY 00Z 4-KM WRF-NSSL AND 12Z GFS. WITH
   BACKED S/SELY LOW-LEVEL FLOW…DEEP-LAYER SHEAR WILL BE QUITE STRONG
   /AOA 60 KTS/ AND WILL PROMOTE SUPERCELL DEVELOPMENT. FAVORABLE
   LOW-LEVEL HODOGRAPHS WITH 0-1 KM SRH AOA 200 M2/S2 WILL SUPPORT
   POTENTIAL FOR TORNADOES. WHILE RELATIVELY STEEP MID-LAPSE RATES /AS
   SAMPLED UPSTREAM BY 12Z LZK RAOB/ AND THE VERY STRONG SHEAR WILL
   PROMOTE HAIL DEVELOPMENT AND LOCALLY DAMAGING WINDS.